Troldtekt A2 panels is the non-combustible one-layer acoustic panel in the Troldtekt range. It is installed in areas where there are stricter fire safety regulations, such as in means of escape.
Troldtekt A2 panels are CE-marked and comply with A2-s1,d0 fire safety requirements.
The fire safety of the Troldtekt A2 panel is achieved exclusively by using special cement without the addition of any toxic fire-retardant additives.
Like the classic Troldtekt acoustic panels, the Troldtekt A2 panels have also achieved the Cradle to Cradle certification in the silver category because, among other things, they do not contain any harmful substances and can be returned to nature as compost.
The use of special cement rather than fire-retardant additives has the great advantage that the Troldtekt A2 panel visually looks like the classic Troldtekt acoustic panel. For that reason, the two types of panel can be combined and installed in the same building without compromising the aesthetics or the acoustics, because the Troldtekt A2 panel can also achieve αw = 1,0.
Additionally, the Troldtekt A2 panel is lighter in weight which means that it is easier to handle than comparable panels with the same fire performance properties.
Troldtekt A2 is available in the following dimensions: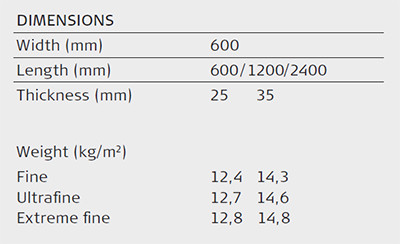 Download the technical data sheet.
The Troldtekt product configurator provides a good overview of all available Troldtekt combinations. Select the panel type "Troldtekt" and click your way through the options to specify your product. After only a few clicks, you get the opportunity to download a dynamic specification, AutoCad drawings and an installation instruction for the specific product.