Learn from the best: Case collection presents residential builds with a low carbon footprint
A new case collection from Aalborg University's Department of the Built Environment presents homes with a low carbon footprint. All 25 projects shown include calculations of the buildings' carbon footprint over 50 years. Four of the projects (which include student accommodation and a housing association for seniors) feature Troldtekt acoustic solutions.
12.09.2023

The construction industry accounts for approximately 37 per cent of the world's carbon footprint. From 2015-2020, housing accounted for two-thirds of all construction projects completed in Denmark. This is why homes with a lower carbon footprint make a difference. And this is the background for a new collection of cases from BUILD (Department of the Built Environment) at Aalborg University.
The publication "Housing Construction from 4 to 1 Planet: 25 Best Practice Cases" takes a deep dive into 25 residential buildings, where developers and consultants can find inspiration when they want to build housing with a low carbon footprint.
All projects featured in the collection are below the new thresholds for CO2 emissions for new builds as required by the Danish "BR18" building regulations. 22 of them also satisfied requirements to be eligible for the regulation's voluntary low emissions category.
Impact measured over a 50-year period
The carbon footprint for each project is calculated over the building's life cycle (LCA). The BUILD researchers here divided the total footprint into:
construction materials
technical installations
operation over a 50-year period.
The calculations and included life cycle phases are based on the methodologies that became a BR18 requirement in 2023. BUILD's calculations were, among other things, based on Environmental Product Declarations (EPDs) from the various material manufacturers.
The calculations include EPD phases A1 (raw material extraction), A2 (transport to manufacturing plant), A3 (manufacturing and fabrication), B4 (replacement), B6 (energy consumption), C3 (waste processing), C4 (landfill).
Innovative homes with Troldtekt
The case collection covers single-family houses, holiday homes, terraced houses, multi-storey housing and a single communal house. Four of the projects feature Troldtekt acoustic solutions: 

Fjordudsigten in Ringkøbing K
Ringkøbing-Skjern Boligforening's project has the lowest carbon footprint of the completed builds presented in the case collection. Bjerg Arkitektur designed the 80 public housing units, which are also notable for being carbon negative in the operating phase. The combination of low heat requirements, solar cells on the roof and a so-called "Compact System" with its integrated heat pump means that the homes produce more energy than they actually use.
Troldtekt acoustic panels are installed as ceilings in all the homes, except for above the kitchen island, where there are smooth ceilings.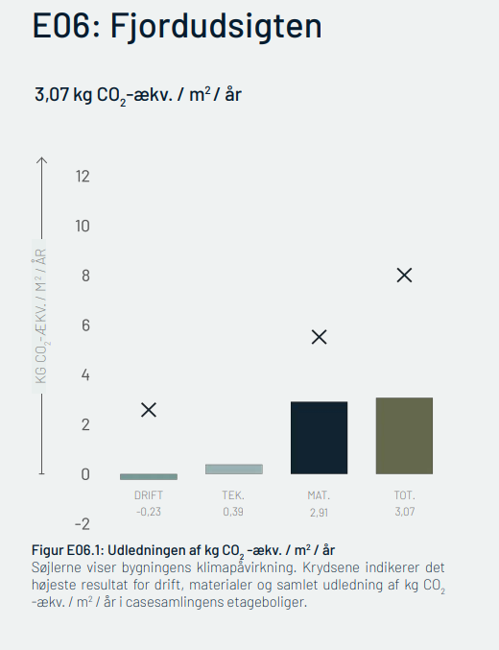 Source: Case collection "Boligbyggeri fra 4 til 1 planet: 25 Best Practice Cases" (Housing Construction from 4 to 1 Planet: 25 Best Practice Cases) by BUILD, Aalborg Universitet (2023).

Studio[Home] in Lyngby
In Ballerup, 300 student housing units have been built and in Lundtofte 491 under the Studio[Home] concept, backed by PensionDanmark and Boligfonden DTU. The project was designed by Vandkunsten Architects. Each apartment was produced as wooden room modules by the Scandi Byg company. This project was the first building in Denmark to be certified for sustainability to both Nordic Swan Ecolabel and DGNB Gold standards.
In the communal areas, Troldtekt natural wood acoustic panels have been chosen to ensure good acoustics and a pleasant soundscape in the areas where many students come together during the day.

Ibihaven in Slagelse
This housing association for seniors consists of two-storey terraced houses, which together frame a covered atrium. The homes are largely constructed from wood sourced from responsible forestry operations. A large part of production takes place at the factory, which meant that fewer resources were required at the actual building site.
There are lush plants and small seating areas in the communal atrium. The entrances to the individual apartments are placed beneath the walkways, creating intermediate zones between the communal and private areas with pleasant acoustics, thanks to Troldtekt in natural wood. The project was designed by Sangberg for Tetris A/S

Frederikssund's Klimakassen (Climate Box)
Klimakassen is a type of housing concept that uses prefabricated modules with wooden load-bearing structures. The building has features such as a green roof, ventilation windows and an exhaust heat pump, which ensures an indoor climate with fewer particles.
Troldtekt acoustic ceilings in the "box" interior also contribute to a healthy indoor climate with good acoustics. The project was developed by Fabulas, with P+P Arkitekter as primary partner.
Objective: Reduce the footprint even further
Over the 50-year calculation period, the 25 projects featured in the BUILD publication have a carbon footprint of between 2.89 and 8.91 kilos of CO2 per square metre per year (CO2 equivalent/sq.m/year).
Danish "BR18" building regulations have established a threshold value for new buildings of 12kg CO2 equivalent/sq.m/year from 2023 onwards. The low emission voluntary class has a threshold of 8kg CO2 equivalent/sq.m/year. The new BR requirements currently only apply to buildings that exceed 1,000 square metres.
The new case collection is part of Realdania's project "Housing Construction from 4 to 1 Planet". The goal of this project is that the carbon footprint of new homes should be as low as 2.5kg CO2 equivalent/sq.m/year by 2030. 
Read the full case collection from BUILD here (only in Danish).